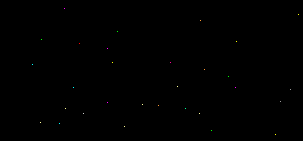 Hello and thanks for dropping by. I created this web site as something fun to do and also a way to learn. There are several different topics on this page all of which I find interesting to some degree. If you click on the relevant link you will be taken to a web page devoted to the relevant topic. I hope you enjoy your visit. If you have any problems or suggestions let me know in an email and I will take them into consideration as soon as possible.

Quick Find
This is a quick contents to this page I am introducing this to all my pages as a way of quickly and easily finding what you want. Simply click on the relevant link here and be taken straight to that section then click on the Quick Find link on the lower left of each section to be taken back here. You can either scroll through the site as in a normal web site or use the quick find links to jump to and from different sections. This will save scrolling through the site and make your visit more enjoyable as well as quickly finding what your looking for.
My Other Web Pages
Cool Links
email
Free Web Space
Free email Addy
My Guest Book
Get a free Guest Book
Earthen's Forum
Get a Free Forum
Chat Room
Contact Me

Soon To Come
I am working on many other sections for this site and refining already existing sections.
Cool links - Many more additions as I am currently collecting links and testing them to make sure thay are valid and correct.
Other Forums - Discussion Forums on various topics from computers, astronomy general discussion and many more. If you want to see a discussion forum for a particular topic let me know and I may create it for you. Your ideas are important and input from you will help me make this site more enjoyable and user friendly.
Many other ideas are being thought of and worked out all the time.
Do you have an idea? Why not letme know of it may very well help improve this site.

email me

My Other Web Pages
I have created other web pages on various topics. Just click on the relevant link and be taken there then once there click on the HOME link near the bottom of the page to get back here. Once again some of these pages are relatively new and I am constantly improving them so they may look very different over time.
Computers
Links And Net Sites
Poems
Lots more to come in the future!!!
JJJ
UDRCNTUTO
Quick Find

Any problems with this site? Then email them to me and I will fix them as soon as possible

Cool links
''''''''''''''''''''''''''''''''''''''''''''''''''''''''''''''''''''''''''''''
I have included some handy links for downloading free programs off the net. All these sites have been trialed and found to work and also be useful. All these sites are good and worth checking out. A variety of topics that are all useful to some degree. Your help with this section is important if you find any links that are wrong or other problems with this section please let me know. I have tried to create a good section and while I constantly test out the material I can only do so much and changed sites etc. may take a while to notice but if you let me know I can fix it straight away. Thanks.
THIS SECTION HAS RECENTLY MOVED
Due to the growth of this section it has been moved to another site that I have linked to this site. Scroll up to "My Other Web Pages" and click on "Cool Links" to be taken to the related web page. I think you will agree the effort is well worth it. A note you can use the index links on this page to get to the "My Other Web Pages" section quickly and easily. Enjoy...
Quick Find

Want Free Web Space?
There are many places that will give free web space to non business orientated activities. You can get a certain amount of free web space and buy more if you need it but tripod gives 11 megs of space more than enough to create a good site.
Angelfire
Tripod
Geocities
Quick Find

Want An email Addy?
Do you want a free email addy. Maybe your sharing your computer with someone else and want your own individual email service or maybe you just want another email. All these links give you email services providing you don't misuse it (spamming etc. not allowed) then you can have the service for as long as you like.
Hotmail
Mail Excite
Quick Find

Be Sure To the Guestbook!!!
Why not sign my guestbook before you leave?

You can also view messages left by others.
Quick Find

Free Guest Book
What is a guest book? A guest book is where visitors can leave a message and contact details. This message can be anything from a hello to advice about your site. Have a look at my guest book above to see one in action. You can completely edit the guest book add, read and delete mesages. either of the sites below will get you a good guest book that will be a valuable addition to your site.
Click here to get your own guest book from guest world.
Quick Find


Call back again and check out the changes...


You are visitor number


Welcome To Earthen's Forum
Feel free to debate whatever you like in this section. This is a new addition to this web site and if it works well I may improve it and use it more in the future. So support it and try it out. Just remember to keep your debates and messages on an acceptable messages and offensive material will be removed and repeat offenders may be banned from future services (I hate to mention that bit but these days you have more or less have too). I hope that didn't sound to harsh because I want people to enjoy themselves while here. As I said this is very new so it may or may not have a few teething problems. If you find any problems let me know and I will fix them as soon as I can. Anyway feel free to use this forum and email me with any suggestions or advice you may have. Also check out the chat room below. Just click on the icon to enter the forum then exit to get back here once you get used to the layout of the forum you will find it to be very easy to use. You can post messages or just have a good read. Note this is a very new feature and may not have many messages on it at the moment but be sure to come back and encourage others to come here. Thanks!!!
Quick Find

Free Discussion Forum
What is a Discussion frorum? Enter the one on this site to find out they are very good features that allow ongoing discussions from the visitors. Want a free froum of your own on your web page? Click on this icon to be taken to Bravenet where you can obtain your very own forum for your own web page as well as a multitude of other services. I am certian you will find something useful from Bravenet. They also offer email response services, page counters, guest books and lots more.
Quick Find

email me

Earthen's Chat

This chat room is open for general chatting just keep the conversation in the main room on an acceptable level. Remember your conversation may inadvertently be viewed by others. There is a private function and an ignore function just highlight the nick in the user list and then tick the appropriate box for ignore or private functions just type /chat for this and other more helpful features. You can also create private rooms in parachat chat adding extra privacy and a venue for more secure chats just type /chat for more info. Due to the relative infancy of this site there may not be many chatters here at present but be patient and encourage others to visit. I am doing my best to promote the site but it does take time. Happy Chatting.


Note: If you want to include a chat room on your home page you can get them from parachat for free just go to http://www.parachat.com and get it from there. You will need a valid email address though because they email you the code to include on your site. There are also good chat rooms there usually full of other chatters just like you and me so maybe you can check it out sometime.
Quick Find

Contact Me
There are lots of ways to contact me. Email is probably the easiest and fastest but you can contact me on ICQ as well 17734152 (Earthen_) or on IRC using dal.net If you click on IRC details and edite the IRC server to match the details in the display or choose a random US dal.net connection. Then you can either message me through a normal message or through memoserv. Another way to get hold of me is to maybe catch me on IRC while I am in a channel I always log into channel Earthen and use the nick Earthen so I am easy to find when your on the right server and of course while I am on IRC. Feel free to contact me anytime.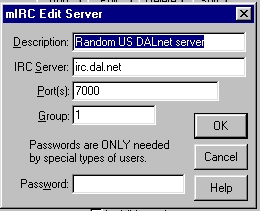 My IRC setup I use the nick Earthen
Quick Find

Thanks for dropping by
I am always adding to this site and improving it so drop by again and check out the changes.

Quick Find